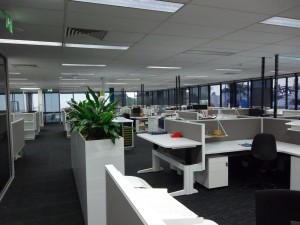 Getting a new office fit-out is a great way to improve your appeal to clients and increase your own productivity. That is why it is so important to choose the right team for the job. At Adina Interiors, we are office fit-out specialists. Our team offers complete office fit-out services that are centered solely on your needs and the needs of your business. We approach each job with a fresh outlook and apply ourselves completely. If you are considering a new office fit-out, here are five reasons why you should choose Adina Interiors.
We Have Experience Behind our Office Fit-out Process
Office fit-outs can be technical jobs. There are a lot of practical considerations that are necessary and these vary between jobs. That is why experience is very valuable, and at Adina Interiors, we have the experience you need. Our team of experts have completed countless office fit-outs, each one providing us with new insights which means we are constantly innovating and evolving. Our many projects completed throughout Queensland means our work is on display for everyone to see – allowing you to make up your own mind.
We Work With Our Clients
Office fit-outs require a great deal of cooperation between our clients and our team. Here, communication is key. As you see your office fit-out take shape, you might decide to add things as you go, and we encourage you to participate in conversations with tradesmen on site to ensure your needs are met. To make sure that everyone is on the same page, we maintain open and transparent communication and we answer your questions at any time. At Adina Interiors, we believe this is the only way to get the perfect result.
We Know that Every Office Fit-out is Different
By their very nature, offices are utilitarian. They are designed to foster a productive environment, so that your business can operate at full capacity. This means that every office space must be perfectly adapted to its purpose. Because of this, different offices have different requirements when it comes to office fit-outs. At Adina Interiors, we work with our clients to establish these requirements, before we begin. That way, we can create an office that perfectly suits the nature of your business.
We Minimise any Obstructions so your Business is Mostly Unaffected
Office fit-outs are different to most other construction projects. The most notable difference is the unique timelines and work requirements. These are unique because most of the time, offices must still be operational during the fit out process. After all, you can't simply suspend business until the project is complete. At Adina Interiors, we recognise that you still need to work. That is why our team works around you. We minimise obstructions to your business and try to ensure that you can work productively throughout the whole project. We can discuss this with you during the planning stage and establish an approach that works for everyone. Sometimes, this means our team must work outside normal trading hours.
We Offer Office Fit-outs and Shop Fit-outs
At Adina Interiors, office fit-outs are not our only service. We also offer shop fit-outs. These are distinct from office fit-outs in a few ways. Often, shop fit-outs require more spaces for the preparation of goods. This is especially important in hospitality. They also require access to power for appliances such as fridges, ovens and other kitchen equipment. In retail, shop fit outs require a certain amount of appeal to draw customers in. Once in, the shop needs to have a layout that will optimise sales and display merchandise in an
In retail, shop fit-outs require a certain amount of appeal to draw customers in. Once in, the shop needs to have a layout that will optimise sales and display merchandise in an organised and attractive way. In this regard, our skills and experience in office fit-outs and shop fit-outs go hand in hand. In both cases, we are working around you and creating a practical space for your business.
For all your interior design needs, get in touch with Adina Interiors today on (07) 4132 7755.