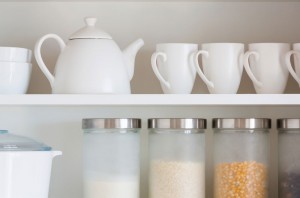 Aside from your bathroom, your kitchen is probably the most functional room in the house. It is built with one purpose in mind: cooking. So when you're designing a kitchen, you have to make something that is both practical and good-looking. How on earth can you do that?
In our experience, it all comes down to one thing: kitchen storage. Kitchen storage is vital and it is also a great way to showcase your creativity and designs. To help you find a starting point for your next kitchen project, we have a few tips on kitchen storage below.
#1 Customise your kitchen for the best kitchen storage
This tip is really just to set the tone; your kitchen should reflect you and your preferences. That's why we always opt for customised kitchens. Why settle for something that's good, when you can have something that's perfect? Customised kitchens always have the best kitchen storage too. After all, everyone has a different approach in the kitchen, and like to store items differently. Whether it's the way you cook, what you cook, or what cook with, your kitchen has to be usable and comfortable. And, of course, good looking! So team up with the pros and get a great customised kitchen in your home.
#2 Have you got a wide kitchen window? Add some kitchen storage shelves above it!
Now that you're embarking on your custom kitchen journey, it's time to look at some specifics. Kitchen design is all about making the most of your space. And what better way to do so than with shelves above your window? If you have a wide but low kitchen window with a great outlook, you can gain some extra kitchen storage without spoiling the view. Simply fit some shelves along the top of the window. This will free up a lot of space and add an interesting feature to the window frame.
#3 Floating kitchen storage shelves are a great way to capitalise on your wall space
If you are like a lot of people, kitchen storage probably conjures images of drawers and cabinets. Sure, these are the bread and butter of kitchen storage. But they're not the be all and end all. Try thinking outside the square and using what free wall-space you have. Floating shelves are an excellent kitchen storage solution. You can offset them for an interesting feature, or run them wall-to-wall for maximum storage. Either way, they let you make the most of the space you have.
#4 Sliding pantries are a great and space efficient kitchen storage solution
It's amazing what you can achieve with a wall recess and some heavy-duty tracks! Sliding pantries are a great and space efficient kitchen storage solution for the smaller kitchens out there. You can run them parallel above your bench, or from any other space that takes your fancy. They are low profile, but full of storage space – and you don't lose pantry items behind each other! With some careful thought and some expert input, you can maximise your kitchen storage in style with a sliding pantry.
#5 They might be a small touch, but containers make kitchen storage a breeze!
Let's take a moment to hail the unsung hero of kitchen storage: the humble container. Getting a good set of containers will allow you to make the most of the beautiful space in your new custom kitchen. With tessellating and stackable shapes, your containers will occupy every square centimetre of kitchen storage. Coupled with your creative kitchen storage solutions, containers will allow you to store absolutely anything in style.
#6 Sink Drawers are a must have!
Providing you have the room around your sink, a sink drawer is a must-have! It eliminates the wasted space under the sink and allows for the storage of popular items such as Dishwasher detergents, washcloths and scouring pads in a narrow pocket that runs around the sink. Put another drawer underneath and make that low deep storage space more user-friendly!
For all your kitchen storage needs, contact Adina Interiors today on (07) 4132 7755.