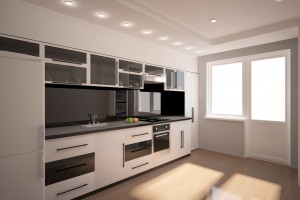 Lift your game in the kitchen with the latest must-have appliances. Like any good workspace, smart kitchens need the right appliances to make home-cooking an enjoyable task rather than a chore.
New designs in super smart technology have introduced a stylish set of kitchen appliance trends in recent years. That said, the following list of smart kitchen appliances not only look great in your home but will change the way you cook for the family, too.
Steam and combination ovens
All smart kitchens need an oven unless of course, you enjoy cooking off the barbeque year-round! Ovens are categorised into gas; fan-forced and steam ovens.
Steam ovens are a hot topic in smart kitchens, and there are three types to choose from:
A standalone steam oven, which only steams.
A combination oven, which has a multifunctional use for baking, combination steam and steam only settings.
A multifunctional electric oven, which has the additional steam function that adds moisture for steaming when required.
Steam ovens won't necessarily replace conventional ovens in smart kitchens, but instead, a steam oven would complement your existing electric or gas oven.
Induction cook tops
Smart kitchens have been replacing traditional gas ring cooking stoves with induction cook tops in recent years, and there's a good reason why.
Induction cooking uses electromagnetism to heat the pans you are cooking with, without firing up heat from the outside. This nifty way of cooking is incredibly quick, uses less energy and is much safer than traditional cook tops. Once you remove your pan from your induction cook top, the surface is cool to touch immediately. How great is that?
Aesthetically, smart kitchens tend to have induction cook tops because they give a much cleaner, polished look in the home, too. Induction cook tops are black in colour, flat and made from toughened glass. Because induction cook tops are flat, they blend in well with the rest of the kitchen's bench tops.
French door fridge
Ooh-la-la! Le French door fridges are all the rage in Australian smart kitchens. French door fridges are large units with a side-by-side refrigeration doors at the top and pull out freezer drawers at the bottom.
French door fridges look sleek in smart kitchens and fit into most styles. Such designs also make life easier in the kitchen because you are at eye level with the most used food in your fridge; milk, veggies, juice. Your less used foods, stored in your freezer, sit at the bottom.
Espresso machine
Espresso machines are smart kitchens must-haves, because coffee! Despite only being on the market for the last 20 years or so, espresso coffee machines for the home have taken over Australian smart kitchens.
Although smaller than the commercial espresso machines used in cafes and restaurants, espresso machines for the homework in a similar way. These appliances brew coffee by forcing hot water through tightly packed ground coffee beans. Espresso machines then produce a thick brown coffee concentrate, which is then added to hot milk or cream. Top of the range espresso machines in smart kitchens come with coffee grinders, internal water tanks, and the ability to produce latte art!
Silent cassette range hoods
Bulky range hoods above your ovens are a thing of the past. Smart kitchens install roof mounted silent cassette range hoods. Silent cassette range hood designs, such as the slimline Scheigen brand, are built into the bulkhead. These types of extractor fans are frequently used above island bench cooking tops in smart kitchens.
Contact Adina to discuss your smart kitchen design plans
Now you know what appliances are the best for smart kitchens, it's time to get your own interiors designs sorted. Adina Designed Interiors, based in Central Bundaberg, is a design agency specialising in cabinetry designs for home and commercial use.
Book in for an appointment to discuss your smart kitchen needs with Adina by completing the online contact form, or call us on 4132 7755.