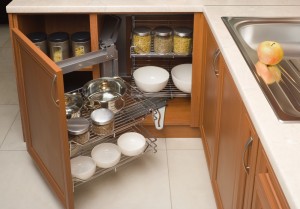 If your home has a heart, then surely the kitchen is where it beats. A place for preparing food and sharing it, lively conversations and perhaps a glass of good wine, the kitchen is the centre of some of life's greatest pleasures. But the functionality of a kitchen can certainly affect the enjoyment of using it. The following five kitchen storage ideas offer clever solutions to some of the most common problems.
#1 CUSTOM PANTRY
A pantry can make or break a kitchen. Conventional units are notorious for having cramped shelving with poor accessibility. Custom-built pantries can eliminate these issues and more. By tailoring the cabinetry to the exact space, you can maximise its efficiency. Current trends favour excellent visibility and accessibility with the use of pull out shelving and baskets, racks and rotating shelves. You can even add lighting. Customising the pantry to suit the way you like to use it is every home chef's dream and a place where tinned tomatoes can no longer get lost!
#2 CORNER DRAWERS AND PULL-OUT SHELVES
You're dreaming of a kitchen with loads of room to move and endless storage options, but maybe you're dealing with the reality of a much smaller space. Modern kitchen design offers ingenious solutions for even the pokiest of rooms. Unless you're dealing with a circular space, the problem of how to use corner cupboards must be factored in. Anything that lives in a cupboard that's awkward to access is guaranteed to be either deeply frustrating to use or not used at all. Corner drawers are a brilliant way to use the precious space effectively. Running diagonally into the corner of the cabinet, the drawers are deeper than average which offers even greater storage potential.
Pull-out shelves are also hugely popular in everyday kitchen cupboards. The ability to slide shelving in and out makes accessing the contents a breeze and eliminates the issue of not being able to see what is stored at the very back.
#3 UTENSIL DRAWER
Is the old school utensil drawer the most frustrating drawer of all? No doubt you've lost valuable minutes of your life rummaging around in the tangled mess when all you wanted was a humble spatula! Perhaps you've been storing your whisks and slotted spoons in an upright jar next to the stove which might look okay but takes up premium bench space and can result in dusty or grease-splattered utensils. A fresh new idea to consider is the dedicated utensil drawer which sorts and stores your spatulas and wooden spoons in upright stainless steel canisters. A deep drawer with as many canisters as you choose, this makes finding what you need a cinch.
#4 PULL-OUT RUBBISH BIN
It doesn't matter whether it's a lovely brushed steel that complements your other appliances, the humble bin is never an attractive focal point in any kitchen. Added to that, they have a tendency to smell! So the pull-out bin is an excellent option. A dedicated drawer, often placed next to the sink, keeps the rubbish receptacle hidden away and the accompanying smells contained. And with most households having bins dedicated to rubbish, recycling and even compost, keeping the multitude of containers tucked away in a drawer frees up premium floor space.
#5 APPLIANCE GARAGE
Bench space shortage is a common kitchen complaint. Frequently used appliances like kettles and toasters are not only clogging up valuable bench top space but they can also detract from the sleek, clutter-free lines that are so popular right now. The appliance garage offers a nifty solution. Create a dedicated space to easily access your everyday appliances and then hide them away again simply with a flip-up hatch, bi-parting or pocket doors. The options are endless and the finished result adds aesthetic appeal to your kitchen.
For more brilliant kitchen storage ideas, contact the specialists at Adina Interiors today on (07) 4132 7755.