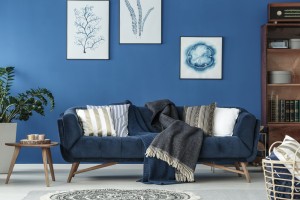 Interior design trends seem to move like the wind, changing drastically from one season to the next. But that's not always the case. Every year, we see a few interior design trends that are in it for the long haul. And we think they really warrant a mention! That is why we have put together this list of our favourite interior design trends. So read on and enjoy a little bit of inspiration for your next interior design project!
#1 Copper colours are one of the more surprising interior design trends of 2017!
Who would have thought that copper would make it onto the interior design stage in 2017? Copper hasn't made much of an appearance in terms of interior design in previous years, but it has entered the arena spectacularly! So what makes copper so great? Well, for starters, copper is very durable – it doesn't rust like other metals. And better still, it is strikingly unique – after all, what other substance can emulate that amazing colour? Finally, copper keeps well with that polished concrete design trend that is dominating the world's interiors at the moment. What can't copper do?
#2 As far as interior design trends go, timber tiles definitely rate a mention
Design trends and tiles almost immediately bring to mind subway tiles – they seem to be everywhere. But they are not the only rising start of the tiling world! Timber tiles are taking off as one of the hottest interior design trends of 2017. Their diversity is simply second to none. If you look through the latest interior design trends on Pinterest, timber tiles are sure to feature heavily. They can even be used as benchtop materials and take it from us: they look amazing!
#3 Climbing indoor plants are one of our favourite interior design trends
Indoor plants and interior design trends have often struggled to mesh in the past. But that struggle has ended, with creative indoor landscaping reaching new highs every day! One of these highs is the climbing plant, and it is high in every sense of the word. Climbing indoor plants strike the perfect balance between natural living and refinement. And adding a little bit of greenery to your home is always a good idea. So check out indoor climbing plants!
#4 Interior design trends: is navy the new black?
As far as fashion trends go, black is the boss. But black has always had a little trouble fitting into the latest interior design trends. It's just a bit hard to pull off. So why not go with the next best option? Navy blue gives you all the dark and brooding qualities of black. But it is much more diverse. Navy blue can be paired with a lighter blue for a fun summery vibe, which works just as well fostering a cosy atmosphere in winter. You can't go wrong!
#5 Open shelving in the kitchen: it actually works!
Now for our favourite interior design trend for 2017: open shelving! There are so many reasons to get behind open shelving in your kitchen. But we think the best reason is practicality. Open shelving allows you to store so much more than conventional shelving. Without division and compartments, it really offers a lot more storage for the creative homeowner. And it looks great. You can spruce up your open shelving a few different ways. You can opt for a variety of mounts to store your pots and pans, or you can simply stack! You can get any vibe ranging from chic commercial kitchen to cosy Swedish lake house. How's that for diversity? We reckon it's just unbeatable!
For all your interior design needs, contact the experts at Adina Interiors today on (07) 4132 7755.