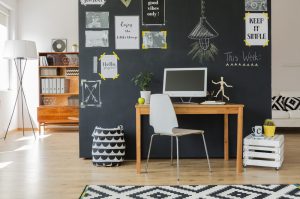 Tired of coming home and seeing your work clutter piled up at the end of the kitchen bench or plastered all over the fridge? Have you ever used your computer on the kitchen table at night and had to pack it all up so everyone can have breakfast in the morning? At some stage in most parents' lives, a spare room becomes available, whether a grown up child is moving out or a kid grows out of their playroom.
This is the perfect opportunity to turn your newly vacated room into a home office. A professional home office can help you stay organised, keep on top of work, maximise your planning and creativity, and make your life easier.
We've collected a range of home office ideas that combine space efficiency with excellent design to supercharge your productivity at home. Better still, they produce spaces that truly nurture your creativity, as all home office design ideas should.
So let's look at options for creating your own perfect home office.
#1 Increase your efficiency with strategic use of storage
First, every home office space should offer plenty of practical storage. This has two advantages: you will be able to keep more organised, and your desk space will be clutter-free to minimise visual distraction. We recommend investing in in a well-designed desk with some nice matching joinery items, such as under bench or overhead cupboards, filing cabinets, pin boards, and open shelving to keep your paperwork well-organised. Under bench or overhead cupboards with doors are a great way to store away items you rarely need. A home office allows you to have your computer, printer, shredder and paper storage all in the one spot for use at any time.
#2 Consider choosing a large freestanding desk
A large, free-standing desk makes for a great centrepiece in any home office layout. In terms of design, a central free-standing desk ties the room together and creates a focal point. In terms of productivity, that desk will distinguish your home office as a place of creative and productive thought. By attaching the room to its purpose, you can channel productivity almost instinctively.
#3 Create a comfortable oasis
Prioritising comfort and a healthy lifestyle is an essential component of any modern home office design. We recommend investing in a well-designed, ergonomically efficient chair to support your posture. If you'd like your home office to feel comfortable, personal touches, such as family photos on the walls and a plant or two, can make your office feel more comfortable. Office supply companies offer a huge range of colour-matched folders and desktop storage containers to give your home office space a much more relaxed feel.
#4 Short on space? Convert the corner of your living room into a home office
Home offices don't necessarily need to be bounded spaces. They can simply be a part of your home that effectively channels your productivity. Often, it's as simple as taking a corner of your living room and fitting it with a nice desk, and some design extras. With some expert assistance, you can easily fit this space out with some custom cabinetry. Include a desk and you have a delightful little bubble of creativity. It's cheap, on-trend, and very functional – what more can you want?
#5 Make the most of free space: long floating desks are an excellent home office design idea!
A recent and very modern home office design idea is that of the long floating desk. These typically suit hall spaces, or elongated rooms. Essentially, they involve fitting a long, narrow, and floating desk to one of the long walls of the room. These desks look great from a design perspective; they direct your view and give the impression of space. But they are just as good functionally too! Their length means that workspace is ample, and there is plenty of room for numerous people to study and work simultaneously, or offers the opportunity to build more drawers and cupboards for storage.
Still looking for space?
Contact Adina Designed Interiors and let us help you with a joinery package to suit your need and free up that dining room table for good.