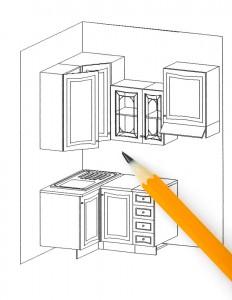 You finish work, worn and weary from a long day of emails, meetings and office politics or maybe you spend your nine to five outdoors, battling the elements. By the time the knock-off gong sounds, it's time to pack up for the day, drive on home and converge in the kitchen for a quick drink and a catch-up.
Dinner time rituals, breakfast traditions and weekend lunches are held and hosted in these spaces, and sellers should know a good kitchen can mean the difference between a good sell and a low offer. Are you trying to talk yourself around a fresh kitchen based on one of these reasons? Let us bust those for you.
"Kitchen Design is Expensive"
While a kitchen makeover will set you back a penny or two, it's nowhere near as expensive as some would like you to believe. Communicating your budget and expectations early on can help you avoid nasty surprises later on, tailoring a dream kitchen without sacrificing quality.
"My Input isn't Important"
Although you may invest in a talented and innovative kitchen designer, without your direction in the planning stages, they won't know what to deliver. Be clear and concise about what you want, even the smallest detail can affect the final product – don't hold back if you're not 100% happy with the concepts being presented to you. Remember, it's always better to speak up now than regret not mentioning anything later. Nobody can read your mind, no matter how imaginative.
"Bold Colours are Bad"
Bold colours have a reputation of shrinking rooms and overpowering décor. While a saturation of larger than life hues will drown your design plan, using bold colours to highlight or contrast can maximise effect and create a room personality that will sell, charm and provide a warm setting in which to entertain.
"There are Fixed Rules"
Many interior designers and stylists will tell you there are fixed rules for kitchen design. Sure, you need bench space, cupboards, an oven cavity and other obvious fixtures, but how everything is organised or realised? If you have a crazy vision, don't be afraid to mention it to your kitchen designer – you never know, it could work.
"Everything Must Match"
While uniformity is the automatic stand-by of most kitchens, if you feel like mixing up surface types or cupboard fibres, there's no reason why you can't let your creative side shine and experiment with new fibres, colours and surfaces. Before you commit to anything though, make sure this is something you'll love five years down the track – if you intend to sell, think about the value your quirkiness adds to your final price.