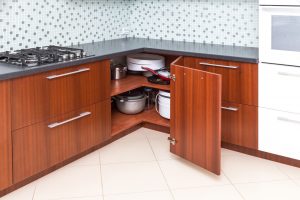 The purpose of interior design is simple: keep that dead space at a minimum. But sometimes that's easier said than done. Some areas of our homes are a little tricky to work with. Chief among them is the kitchen corner! Kitchens are one of the few rooms in our homes that serves a specific purpose. As a result, everything needs to be well set-out. Storage is the best way to do that, but kitchen corners don't always offer the easiest site for cabinetry.
Of course, there's plenty of cabinetry that is well suited to kitchen corners. But not all kitchen corners are well suited to that cabinetry. If you're struggling to find the right storage solution to occupy your kitchen corner, take a look at this list. With these creative solutions, you can make the most of any kitchen corner – no matter how tight!
Corner drawers: here's what they are and why they'll work in your kitchen!
Corner drawers aren't something you see too often. But we think they are a creative masterstroke! If you haven't seen corner drawers before, allow us to explain. Corner drawers are essentially drawers with a face cornered at 90°. They pull out in the same way that any drawer would, but they close snugly into a corner as though there is nothing there at all. These drawers are a fantastic way to maximise the useable storage space in your kitchen corner. They're low profile, streamlined, and only really visible when you pull them out. As far as we're concerned, corner drawers are a great alternative to the more common corner cupboard.
Get customised with diagonal cabinets to suit your kitchen corners
Are you wading through a renovation project at the moment? If so, this solution might be within your reach. Diagonal cabinets are a custom option to suit kitchen corners that are a little atypical. If your kitchen has a few obscure angles, you're probably struggling to find conventional cabinetry as it is. That means custom cabinetry is a must. And if you're going custom, why not make the most of it? Diagonal cabinets aren't something we would recommend in all cases, as they can be a little pricier than the alternatives. But they are by far the most space efficient solution to your underutilised kitchen corner. So if you're already considering custom cabinetry, give diagonal cabinets some thought.
Kitchen corners are the perfect site for built-in pantries: here's how to get the perfect one
Built in pantries are the classic kitchen corner staple. If in doubt, a pantry is the best way out! However, corner pantries can sometimes find themselves a little limited in accessibility. Of course, if you take the time and team up with an expert, that won't be an issue. The accessibility of a corner pantry hinges on its door configuration. If you think outside the square, you can maximise space efficiency and accessibility in your kitchen corner. All you need is a pantry and some expert help!
Sometimes the simplest solution is best: consider standard cabinets in your kitchen corners
We've covered a few interesting and creative solutions to kitchen corner storage so far. But we can't finish up without mentioning the classic and traditional corner cabinet. When done well, this is a remarkably effective way to reduce dead space in your kitchen and maximise your use of corners. There are plenty of corner cupboard inserts available such as the Lazy Susan type that maximise accessibility to the corner space, bringing the cupboard contents to you without having to get down on your hands and knees!
So if you're after a quick fix, and you're not inclined to reinvent the wheel, get in touch with Adina Interiors and pick out a great kitchen corner solution!