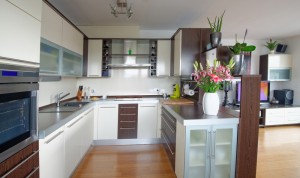 So you've only got a small space to work with, and perhaps not a huge budget for your kitchen renovation? This doesn't mean you can't pack plenty of functionality into your small kitchen with a smart design and a well-considered layout. The interior design and renovation team at Adina Designed Interiors share some of their expertise when it comes to effectively remodelling a small kitchen in this post. 
WHY RENOVATE SMALL KITCHENS?
Apart from wanting to give the area a facelift, many people choose to renovate kitchens because there is a need to better utilise limited space. But how can you create more space if space is already scarce? Fortunately there are lots of different approaches you can take to maximise the space of a  small area. Not only will this make a small kitchen more functional, it will also help it feel far more spacious.
Design tips for small kitchens
– Single Wall and galley kitchens work best for small spaces. Forget about your dream of a kitchen island here. There just isn't the space to do it justice. U Shaped kitchens can also be implemented in some floor plans and are great for extra storage including corner spaces.
– Limit colour choices when working in a small kitchen. Multiple colours will make a smaller space feel even more enclosed. Stay with 1,2, or 3 different tones as a maximum. Consider using consistent colours in the flooring and cabinetry to create a seamless and more expansive feel to the kitchen.
– White can be your best colour choice in a small kitchen. Different shades of white, cream and beige will also create a more country feel. Plenty of light will always help your kitchen appear larger. If your layout allows, you may be able to remove part of a wall to open up the space and allow you to use the counter from either side. Since lighting is an important design requirement for functionality and safety, consider window placement near a sink or work bench. Skylights are another method of gaining additional natural light into a kitchen.
– Multilevel counters can double as a table to sit at with bar stools, a place to serve food and to keep appliances like kettles, sandwich presses and toasters. The lower level counter space will then be less cluttered and provide extra surface space for preparing meals.
– For extra storage space consider above counter cabinets and cabinets that have extra depth.
APPLIANCES and SMALL KITCHENS
Large appliances can take up valuable space in a small kitchen so it's important to consider the size of your fridge and stove. A single sink might have to suffice rather than a double sink, and a dish drawer dishwasher can be the better option as they are far more compact.
For more advice on renovating kitchens of all shapes and sizes (including small sized kitchens) call the kitchen renovation experts in Bundaberg at Adina Designed Interiors today on (07) 4132 7755