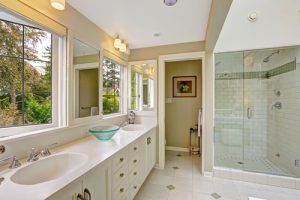 Bathrooms are one of the two most functional rooms of any home. With the exception of the kitchen, bathrooms are the first focus of pretty much any renovation. But once you've chosen your tiles, picked a vanity, and upgraded to your favourite tub, there's one thing that remains to be done: storage. Bathroom storage is absolutely vital. Bathrooms generally aren't massive, and there's a lot that needs to go into them.
However, storage is notoriously hard to find. And of course, you don't want to compromise on style! Luckily, there are bathroom storage solutions that tick all the boxes. At least, there are if you get creative. So check out some of our stylish and creative bathroom storage ideas.
Towel hooks: a bathroom storage solution for those with limited space!
Towel rails are widely considered the preferable towel hanging solution. But that doesn't necessarily need to be the case. Not everyone has the luxury of abundant wall space. And when your walls simply don't offer the length to fit as many towel rails as you need, you have to look at other options. As far as we're concerned, towel hooks are the perfect alternative. They're low profile, easy to fit yourself, and excellent for holding and drying towels. You can put them as you please, and space will not be an issue. For two people in a small one-bathroom apartment, towel hooks are a veritable lifesaver!
Get mobile with your storage: a bathroom storage cart is a versatile and stylish addition
Bathroom storage carts are a favourite among apartment dwellers. Generally, inner-city apartments are as tight as they are stunning. So for that extra edge on storage, people have become very creative. Nowhere is that more apparent than in the bathroom! Bathroom storage carts are the perfect DIY storage solution. You can pick them up from almost every homewares store, and they need no installation. They're mobile, too, so you can move them around as you please. And as for storage – they offer more than most cabinets combined!
Woven baskets offer storage for everything from dirty clothes to makeup!
Speaking of mobile storage solutions, we simply have to talk about woven baskets. From wicker to reed, woven baskets are a nice, casual addition to all bathrooms. The amount of storage they offer can vary according to your needs, as well! So if you're chasing a laundry basket – why not go big? And if you're looking for somewhere to store makeup brushes – why not find a cup-size woven basket? Whatever your bathroom storage needs, there's a woven solution waiting for you.
Bathtub shelves: this storage solution offers the luxury to read and eat in the bathtub
Bathtub shelves have dropped off the radar for a while now. But slowly, we are seeing them make a comeback. And honestly, we are not surprised. Bathtub shelves offer one of life's small luxuries: the chance to eat, drink, and read in the bath. This is not exactly the most practical storage solution, granted. But we think its pros far outweigh its cons nonetheless!
Bathroom cabinets are the classic storage solution – here's how to get the most out of yours
Finally, let's take a look at the classic: bathroom cabinets. When you think of bathroom storage solutions, cabinets are the common answer. They exist in most bathrooms, but they're not always optimised for better storage. If you're short on space and cabinets are the solution you want, we recommend chatting to an expert. Cabinetry is tricky, but when it's done professionally, it's invariably the most practical, stylish, and unique bathroom storage option available. Our advice: chat with the experts, and see what they can do for your bathroom.
For more information on bathroom storage and all your interior design needs, get in touch with Adina Interiors on (07) 4132 7755.