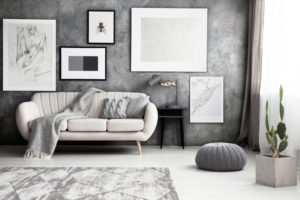 Shelter is a basic human need, and over the last 300,000 years, we've gone from living in rudimentary caves, to building mud and wood houses, brick and stone houses, and eventually, sprawling marble palaces dripping with beauty. As our species evolved and became prosperous, and we found ourselves with surplus resources for the first time, we were able to create homes that were more than just shelter. For the first time, we were able to design our homes. Eventually, an entire industry was created: interior design.
Interior design is the process of enhancing a building's interior, to make it more usable, beautiful, balanced, and enjoyable for the people using the space. It can be used across a range of building types—homes, shops, offices, hospitals, hotels, bars, nightclubs, sports halls, art galleries, and more. Any building can benefit from the work of a professional interior designer.
We spend most of our time in buildings. By making a space easier to navigate and use, as well as turning it into a piece of art to be admired, interior design is an important process that can improve the quality of our lives. The loftiest goal of an interior designer is to create a sense of awe when someone walks into a room. When you enter a room and murmur "wow" without meaning to, the interior designer has excelled at their job.
Interior design is much more than just the decor of a room. To create a beautiful and usable room, an interior designer plans, researches, coordinates, and manages design projects, which also includes conceptual development, space planning, programming, site inspections and thorough research. In Australia, interior designers are qualified individuals who have typically completed a Cert IV in Interior Decoration, or a Diploma of Interior Design and Decoration1.
Design is a boundless process, and as with any kind of art form, its complexity usually leads to the creation of individual styles. Popular design styles for interior design are as follows.
Modern style interior design
The modern interior design style is based on the idea of simplicity, and incorporates clean lines, simple colours, and materials such as stainless steel and glass.
Contemporary style interior design
Contemporary interior design is similar to the modern style, but uses more curving lines to create a fluid feel.
Minimalist style interior design
Again, minimalist interior design is similar to the modern style, but has been stripped down even further with simple and streamlined design patterns. The style is defined by functionality over form.
Industrial style interior design
Industrial interior design uses raw, unfinished materials such as wood, brick, and ducts to create an industrial feel. A typical industrial design might include aged timber, long metal light fixtures, and high ceilings.
Bohemian style interior design
As the name suggests, bohemian style interior design is based on the idea of throwing away the rulebook, and following your heart. You might expect to see floor cushions, exotic rugs, and vintage furniture.
Eclectic style interior design
Eclectic style interior design uses a mixture of materials, textures, and colours to create an almost chaotic style, without a unified theme.
References