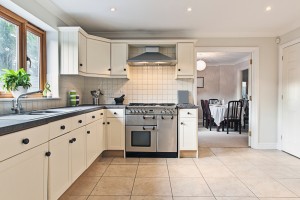 If you've ever lived in an older home you will probably know firsthand that some kitchens are often are installed with little regard to their design, and how they are used. Either you have to scramble for bench space, have a tough time trying to find space for pots and pans, or struggle trying to see what you are doing in poorly lit areas.
Fortunately, times have changed and the principles of smart kitchen design are now more understood. If you are planning a kitchen renovation, you also need to pay as much attention to the design of the space as the fixtures and fittings. Adina Interiors specialise in designer kitchens which not only complement the existing home design, but also add value and are a joy to work in.  If you are considering updating your kitchen, we explain 5 good reasons to work with a team that specialise in kitchens plans and kitchen design.
1. Designs With Safety In Mind
A kitchen designer will be able to advise on kitchen designs which accommodate easy flow of foot traffic, and design a well-lit and ventilated space. This can include task lighting near benches, and also electrical safety, cabling and correct placement of plumbing fixtures. A safely designed kitchen will also account for ergonomic factors including the right height of benches and deep drawers instead of cupboards for storage of pots and pans.
2. Coordinate and Project Manage Different Trades
Kitchen designers have a strong understanding of how different trades complement one another and will coordinate all trades on your behalf. Using a comprehensive kitchen design service means you will have access to a team who have built good relationships with contractors and suppliers which enables you to get some of the best deals of labour and building materials. They also have the best product knowledge of different options available to suit the area and style of your home, as well as your budget.
3. Designs with Best Use of Space
One of biggest skills of a kitchen designer is the ability to create workable kitchen designs in all floor plans and different sized spaces. They can use their expertise to create compact yet functional designs for smaller units and apartments or connect an open spacious kitchen to a larger entertaining area. Whether it's a galley kitchen or using a centre island, a smart kitchen design is one which never wastes space and uses all square footage to maximum potential.
4. Design with Ease of Use and Best Functionality
A kitchen design will design the space to make it easy to move in and work in. This means a neat work triangle between bench, stove and sink, as well as easy access to move around in the kitchen and to appliances and cupboards. It can also be advising on materials that are easy to clean and maintain as well as many functional extras which you may have never considered including.
5. Expertise with Related Building Disciplines
Kitchen designers come from a number of building backgrounds including carpentry, cabinet making and interior design skill sets. They also have a good understanding of the wider building services industry and stay updated with relevant knowledge and trends. This allows them to offer the most relevant and suitable options that are specific to the kitchen to their customers.
If you need someone with the best skills when it comes to kitchens, Adina Designed Interiors are your specialist kitchen design team in Bundaberg and Central Queensland. Don't hesitate to ask questions about what is possible when it comes to all things kitchens by calling us today on (07) 4132 7755