Hamptons styling is a form of interior design that focuses on space, depth, and rich textures. It originated in the coastal regions of New York, and is famed worldwide for its brightness and unique approach to space and texture. But it's scarce in Australia, despite it fitting well with the modern Australian home and lifestyle, which focuses on living spaces that combine indoor and alfresco decors.
Let's take a look at how Hamptons styling can fit into your Australian home, without having to try too hard, of course!
Australian Hamptons fusion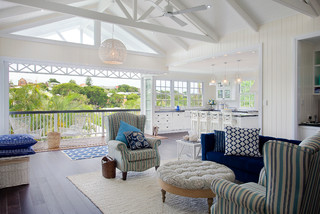 This house uses the Hamptons style, while remaining true to the classic Australian look. The interior renovation uses the typical characteristics of an Australian home—broad timber flooring, tongue in groove walls, and a generous veranda. But the designers have also incorporated Hamptons style elements by expanding the kitchen with a wall removal, allowing the living and dining spaces to flow into each other. On top of that, you can see the exposed rafters, which is typical of Hamptons styling, and creates a geometric focal point to define the space beneath it. Those subtleties are what allow Hamptons style interiors to feel so spacious, without being boring or ambiguous.
The natural look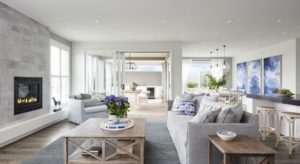 Image from Boutique Homes
To design the perfect Hamptons style interior, there's a fine line between over-crowdedness and sterility. The rich textures and bright white can easily work against you, if you're not equipped to break it up with some alternate tones. That's why natural finishes are so useful. Here, you can see the designer has added a stone feature around the fireplace, along with a more natural shade of timber flooring. That's an excellent way to break up the brightness of an all-white palate, which can sometimes feel overwhelming. Natural materials like stone and timber bring the intensity of some Hamptons styles down a notch, and make your home feel a little closer to Earth. 
The modern Hamptons style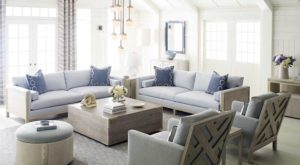 Image from Decor Aid
This is a modern approach to Hamptons interior design, leaning towards minimalism. In the past, Hamptons interiors have gone hard on the drapes, furniture, and wall hangings. That can leave things feeling crowded at times, which really goes against the core value of space, and underpins the style itself. Modern Hamptons is about getting back to basics, and as you can see, it requires little more than a neat furniture set and some creative lighting to accentuate all your newfound space. Here, the designer has left out the wall hangings and extra drapes, to draw focus towards the centre of the room, rather than its borders.
The classic Hamptons design style is all about space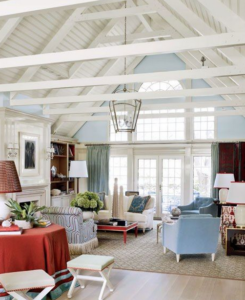 Image from Ferrari Interiors
Like Australian homes, American homes are all about high ceilings, and Hamptons homes take that to the next level. Right angles dominate the floorplan and walls of Hamptons homes, and in this example, the ceiling is made up of a double-layer of exposed triangular beams, creating extra vertical space, and adding visual appeal. With this design, the usually wasted ceiling space has been used to add a new dimension, with furniture being used to inject classic, rich Hamptons textures into the living area.