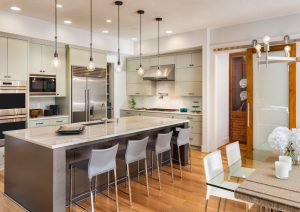 Lighting has the most significant effect on how we perceive our homes. If you match the right lighting with the right kitchen designs, you can rest assured that your interior décor is second to none. However, that's easier said than done. If you don't have a lot of experience with interior design, finding the right lighting can be tough.
Luckily, though, it doesn't have to be! With a few simple kitchen lighting ideas, you can take your kitchen décor to the next level. To help you start on that, we've put together a list of our favourite kitchen lighting design ideas here.
Light your kitchen on multiple levels, with under cabinet kitchen lighting fixtures
Just like shadows can add dimension to art, lighting can add dimension to your kitchen. Kitchens house more cabinetry than most other areas of your home. And in a lot of cases, you put a lot of effort into getting those drawers, cupboards, and pantries just right. So why not show them off? Cabinet lighting is a relatively new phenomenon in kitchen design, but it's taking off for all the right reasons. Under cabinet lighting adds depth to your kitchen, and highlights some of its best features. And better still, under cabinet lighting, is very practical!
Innovate: a great kitchen lighting design rule of thumb is to choose something out of the ordinary
In a lot of cases, kitchen lighting follows a formula: a central pendant light, with an auxiliary light added as needed. That formula does the job, and it even looks good when done right. But there's so much more to explore! There are more kitchen lighting fixtures on the market than we can name. And of these, many probably adopt styles we've never even considered. So why not get out and check them out? If you can come up with a kitchen lighting layout that's truly unique, it'll be a focal point in itself.
Kitchen lighting design guidelines are based on one rule: lighting should complement your interior
We're not normally a fan of rules when it comes to interior design. We prefer a more tailored approach, rather than a one-size-fits-all solution. However, there is one handy guideline we recommend following for kitchen lighting: always complement your interior. Your kitchen is just one part of your home's interior design ecosystem. It's unique and distinct, but it's also connected. That's why you need to marry it with the remaining rooms of your home. Give it a point of difference, but also make it cohesive.
Think about the colours and tones of your kitchen lighting: does it match your interior design?
All lights are different when it comes to both design, and the light itself. Some lights are warmer, dimmer, and more ambient. Others are a bit harsher and more practical. And when you're choosing your kitchen lighting fixtures, you'll need to choose between the two. Our advice: work out what's more important – practicality, or décor. That's always a good place to start.
Use kitchen lighting to accentuate the best features of your kitchen, whether that's fixtures or layout!
Finally, as we mentioned earlier, always use your kitchen lighting as a tool to bring out the best in your kitchen. Strategically positioned and selected lighting fixtures can really highlight the parts of your kitchen that you're truly proud of. If, for example, you have a beautiful stone benchtop that you want to show off, position a light in such a way as to really capture its features. Taking that approach will ensure that you get the most out of both your lighting and your kitchen design. And chances are, you've put a lot of effort into both!
For all your lighting needs, get in touch with Adina Interiors today on (07) 4132 7755.