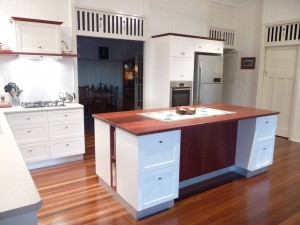 Kitchens are the focal point of almost any modern home, and they're a great place to showcase innovative and exciting new designs. But, of course, that's easier said than done. There are lots of things to consider when designing a kitchen. You need to go over everything from the practical, to the aesthetic – and that's a lot to think about. However if you condense these into 7 things to consider when designing a kitchen, you can make a solid start to your project!
Think about where you want to direct foot traffic in your kitchen
Let's start with layout – as with any room, your kitchen needs to accommodate foot traffic effectively. So that means you need to think about where you want to direct people when they enter your kitchen. Ideally, they should be directed to the fridge and the pantry. And that should be done in a way that keeps the workspace and stove area relatively free. Such a layout will allow you to cook uninterrupted, while others can easily access a snack from the fridge or pantry.
Height is important: Work out a comfortable height for things like bench tops and microwaves
Have you ever cooked on a bench that was too high or too low? It's not easy! When it comes to things to consider when designing a kitchen, bench height is one of the most important. If you are designing a custom kitchen, you should work off what's most comfortable for you. We recommend getting together with an expert to find the perfect height.
The most important things to consider when designing a kitchen are corners and doors
Corners and doors: they don't always go well together! One of the classic kitchen design mistakes is putting a cabinet in the corner so that it can't open properly. When you install cabinets, you always need to consider the direction in which it opens. The same applies to drawers as well. That's where an expert eye can be very useful. Experts in kitchen design have seen enough mistakes to know precisely what to avoid.
Try to store things close to where you will use them
Most things to consider when designing a kitchen seem pretty small. But it is attention to detail that truly defines the best kitchens. And attention to detail truly shines in storage solutions. One of our favourite tips is to store things as close as you can to where you are going to use them. A simple example of this is oil; most of the time you will use oil when you're cooking at the stove – so why not store it next to the stove? That way it will be readily accessible when you need it most.
Choose the rights materials – doing so will considerably cut cleaning times 
We've all seen dirty kitchens before – it's not a pretty sight. But sometimes, mould and grime seem almost unavoidable. Usually when that's the case, it's due to a poor choice of materials. Some materials are much harder to clean than others, and this shows before too long. Try sticking to things like stainless steel or natural or reconstituted stone – especially around the sink and food preparation area. They're easier to clean, they look great, and they will enhance the hygiene of your kitchen. Beware of using marble on a kitchen bench – it is very porous and will stain easily. If you have a marble that you love and would like to incorporate into your kitchen, maybe use it as a feature somewhere where it will not be in the main preparation area.
Functionality has to come first, then you can think about design
We know that the emphasis of kitchen design seems to be on looks. But that's not necessarily the case. You always have to prioritise functionality when it comes to kitchen designs. At the end of the day, your kitchen serves a very important purpose. There's no point having a good-looking kitchen if you can't use it! So focus on functionality – design will usually follow pretty seamlessly.
Things to consider when designing a kitchen for kids: safety and accessibility
Finally, it's time to think about the children. Kitchens have their fair share of hazards for kids, including heat and knives. So think about storing things like knives up a bit higher, where they are less accessible. Then consider a kids space – perhaps a recessed bench area – where kids can get comfortable preparing their own food. If you have an island bench, avoid putting power points on the end gables of the island as cords hanging over the edge are a recipe for disaster – especially with kids around! Instead, put a pop-up power point.
For all your kitchen design needs, get in touch with Adina Interiors today on (07) 4132 7755.