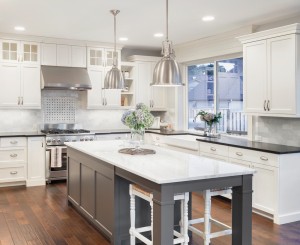 Kitchens are often the jewel in your home's crown. So picking a colour scheme is really no different from making a personal statement. But, with so many colours and tones available, how can you tell a good modern kitchen colour scheme from a bad one? It's not as hard as it seems! In fact, with the right inspiration, choosing a modern kitchen colour scheme will be a rewarding experience. Here's how.
#1 For a kitchen colour scheme that is both modern and timeless, look to blue and grey
A lot of modern kitchen colour schemes trace their roots to the timeless classics. It's amazing how profound an effect a simple adjustment of tone can have on a kitchen colour scheme. And that's exactly what will become apparent with a blue and grey kitchen colour scheme. This combo has been around for a long time, but the more neutral tones available today have transformed it into a modern classic!
#2 Make a statement: Go for a bright modern kitchen colour scheme with bubbly yellows
Of course, not everyone is going to want the neutral kitchen. No doubt there are plenty among us who would prefer something with a little more bubble and shine. And that's where the yellow tones come into play! Choosing some bright yellows to streak through your kitchen colour scheme will have a very uplifting effect. We reckon this modern kitchen colour scheme will soon become a universal favourite.
#3 In terms of kitchen colour schemes, few are more modern than the crisp white, cool grey combo!
Choosing colour schemes is a holistic process. You need to take into account the rest of your home's décor. So how can you make sure your modern kitchen colour scheme goes with the rest of your home? Simple: choose a crisp white and cool grey combination. This colour scheme fits in almost any home and looks great. And it always will!
#4 For a modern take on a farmhouse classic, try a kitchen colour scheme of natural earthen tones
The farmhouse look: it's a modern favourite. From farmer's sinks to timber benches, the rustic farm style is establishing itself as a crowd pleaser across the board. So why not get on board with a kitchen colour scheme of natural earthen tones. This will give you a quite country vibe, that is still at home in the busiest cities.
#5 Match timeless timber with winter white to get a contrast of traditional and modern
Timber and white might not seem like the most intuitive colour scheme, but it is a modern winner. And when you see it, you'll know why. It's as though the white contrasts metaphorically against the timber: a contrast of new and old. You also get to choose a timber that suits you, which adds a personal touch.
#6 Modern kitchen colour schemes love contrast, and there is no better contrast than black and white
Speaking of contrast, another one of the modern greats is the black and white kitchen colour scheme. Coupled with some creative lighting arrangements, this colour scheme adds depth and texture to your kitchen. It can even go so far as to alter your perception of the kitchen at different times of day under different lights—a truly fascinating effect!
#7 Look to the past and see the future, with a modern timber and stone kitchen colour scheme
No great modern colour scheme is complete without a subtle nod to the past. And with a timber and stone kitchen colour scheme, that's exactly what you get. It's hardy, robust, and bright, yet comfortingly earthy. This is another colour scheme that adds depth and complexity to your kitchen's ambience.
#8 And of course, who could overlook the classic, yet modern straight white kitchen colour scheme
Still unsure? We have a modern kitchen colour scheme that's hard to overlook for you: straight white! When in doubt, stick to the basics, and what could be more basic than white? Even within white colour schemes alone, you can choose a variety of tones, textures and finishes.
All you need to do is get in touch with the experts at Adina interiors today on (07) 4132 7755.