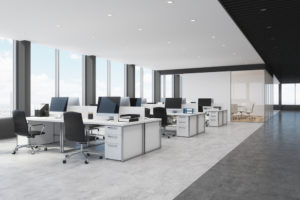 Every office goes through a fitout stage at some point. Whether it's during the formative stages of setting up your business, or during periods of expansion, office fitouts are vital. They ensure that your office space remains vibrant and productive. But they also ensure that your amenities are clean and functional, and your space is free from hazards.
Office fitouts aren't always the easiest thing to design by yourself though. There are lots of factors that need to be considered. Luckily, we've got a lot of experience in office fitouts. Better still, we're going to share some of our best tips with you in this quick tips guide.
Your office fitout should reflect the nature of your business: Here's why
Let's start at a bigger picture level. Your office fitout really needs to reflect your business's values and culture. Ideally, your office space should convey a message about what you do, to anyone who enters. It needn't be obvious, either. With the right layout and interior design, you can create a space that speaks to the services and values of your business.
Aesthetically, including corporate colours in your fitout also helps your clients associate your office with advertising material they may have seen. Think outside the square when you're deciding how this might work for you!
When you design an office fitout, make sure you don't forget functionality!
With that in mind, it's vital to consider the next stage of office fitout design: functionality. Your office needs to remain productive. It must have all the amenities, perks, and spaces that your employees need to thrive. For some offices, that could include a quiet space. For others, it might be as simple as a kitchen with extra coffee machines.
Every office is different, and it's important to recognise your differences when it comes to designing for functionality. Make sure you cover all the bases, and don't be afraid to ask your colleagues or employees for advice!
Of course, functionality is one thing, but ambiance is just as important too
Office fitouts are about weighing and balancing priorities. And when it comes to weight, functionality and ambiance are about equal! Ambiance is what your customers or clients will immediately associate with your brand. If your office doesn't feel welcoming, or if it feels too bright, prospective clients may develop slightly negative associations. However, it's important that you don't try to please everyone with your design. At the end of the day, décor is subjective and there will always be those who don't take to yours straight away.
Designing a new office fitout doesn't have to be too expensive – here's a tip to cut costs
Cost is a big deal in business. And when it comes to office fitouts, costs can appear in unexpected places. That's why careful budgeting is important. For example, you may budget perfectly for materials and labour. But you may still find yourself behind if there is an unanticipated disruption to your work or productivity. So when you're designing your office fitout, think about costs from a few different angles. If you can achieve the same ambiance or functional result with a less invasive approach, always opt for it!
Finally, don't be afraid to call in the pros for some help when designing your office fitout
The last thing to remember when you're undertaking an office fitout, is that it can be complex. There may be times where you're presented with too many options. There may be other times when you simply hit a barrier and can't see the perfect solution. In those times, it's important to contact the experts!