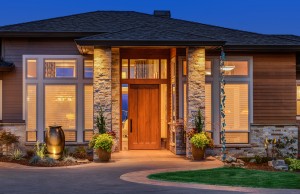 Building the home of your dreams requires attention to detail – you want every aspect to suit your needs precisely. And what could be a better indicator of that than your front door? The front door is more than just an entry or exit, it's a focal point. It's the last part of your home that you see when you leave every morning, and it's always the first to welcome you back! So you have every right to expect perfection from your front door – in fact, you should. But perfection is never that easy to find, so how can you choose the right front door for your home? Here are our favourite tips.
How to choose a front door: the most important step is assessing your own priorities
As with any feature of your home, the front door you choose has to work for you. That means that before you choose a front door, you need to know exactly what you want from it. Do you want a door that offers the best in security, or are you more attracted to a door that prioritises design? Remember, these are questions that only you can answer. So give them some thought – it will really help direct your search for the best front door.
Design is important when you choose a front door, so don't limit yourself to the first option you see
Regardless of your priorities, design is always important. Your front door should mesh seamlessly with the rest of your home, and design is the key to doing so. But there are a lot of front doors on the market, and the most common varieties are also the most similar. And sure – the first door you see may well be the perfect one for your home. But you don't have to accept it if it's not. There are so many options out there that you could spend days looking at front doors alone! So play the field a little bit and get a good idea of what's out there in terms of design. That way, you can rest assured that your choice is the best.
Your front door has to be practical too – here's how you can choose one that is
Once you've chosen a design, you're well on the way to choosing the right front door for your home. But there's another consideration you need to have: practicality. Basically, you need to ask if your front door will stand the test of time. To get the best in practicality, you should look for a front door that has the design you want, but with the highest possible standard of quality and sturdiness. This will contribute to its longevity and security.
Don't spend too much time on colour alone – most front doors are paintable!
So you've chosen a front door that ticks all the boxes. It has a stylish design, a sturdy construction, and all the right dimensions. But there's one thing holding it back: colour. What should you do? Our advice is don't get too hung up on colour. Most front doors are easily paintable, so you can customise it a little in that regard. Of course if it's not, and the colour is just not doing it for you, it may be back to the drawing board!
If you want to choose the right front door for your home, you need to find the right balance
If we could summarise our advice on how to choose a front door into one word, it would be this: balance. Your front door should balance your designs preferences, with your need for practicality. And remember, the ratio of this balance is up to you!
For more great design advice and home improvement solutions, contact our team!