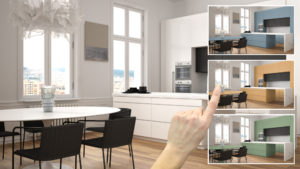 Re-designing a Kitchen can be a little daunting to say the least. The reason for that is simple: it can be the most complex! And when it comes to kitchens, colour schemes are no different. Do you want one that blends? Or perhaps you want one that makes a statement. In either case, you need to give some thought to your kitchen's colour scheme, before you can find the perfect one. So while you're thinking, here are some of our tops tips for choosing a colour scheme for your new kitchen.
Choose a kitchen colour scheme that will stand the test of time – here's what to look out for
A kitchen makeover is not something you do every day, and it can be costly, so you want your new kitchen design to stand the test of time. It could mean standing the test of time from a design perspective. Or it could mean the test of time from a practical perspective. In truth, though, both are of equal importance!
After all, there's no point choosing a durable colour scheme if its design appeal is only fleeting. Generally, a stable pallet is going to maintain its appeal for longer. Patterns and textures are more susceptible to shifting trends, and can often leave homes looking a little dated. Of course, there are exceptions. But to be on the safe side, we recommend that you start your colour scheme with the basics.
Think about your home's colour scheme before you move to the kitchen – what are its features?
If you're stuck for ideas with your kitchen colour scheme, inspiration is not far away! In fact, it's all around you. Your home's pre-existing design and colour scheme will normally be the best guide for your kitchen. Of course, that is not to say that your kitchen needs to adopt a colour scheme identical to the rest of your home. Rather, we suggest opting for a colour scheme that works with that of your remaining home. That still leaves you with plenty of options to think outside the square.
For a lot of people, the kitchen is a focal point – why not choose a colour scheme to reflect that?
That brings us onto our next topic: the kitchen as a focal point. Kitchens are a designer's favourite room. They call for functionality, which means clever design is essential. But at the same time, they offer so many challenges to designers. There is space, light, colour, and finishes to play with. The rewards are thrilling! Kitchens are often a point of congregation.
Dinner parties, casual catch-ups, and everything in between always seems to end in the kitchen. So why not make it a focal point? Give it some extra brightness, or even a two-toned pallet. By setting it apart from the rest of your home, you can pay homage to the kitchen's long-standing social contributions.
Appliances are an important consideration in your kitchen colour scheme: here's why
Appliances are in every kitchen, but small appliances are making an impact and can be a great way of adding a dash of colour. As appliance design improves, there's plenty of reason to draw attention to them. If you are running with a clean-lined colour scheme, why not break from it with a bold red toaster or pastel fridge? It's only a brief dash of colour, so it's not overpowering. And on top of that, it's not permanent either. It's a colour scheme dream!
Finally, don't be afraid to get some help choosing the right kitchen colour scheme for you
Colour schemes are notoriously challenging. Getting the right shade of the right colour takes time, effort, and concentration. Often, it can be tricky if you don't have experience. That's why we suggest consulting an expert, to begin with. Even narrowing down your choices is worthwhile. Contact a professional consultant today!