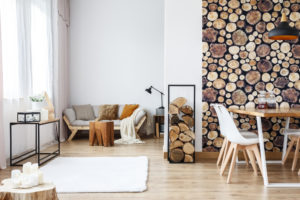 Revamping your interior design is an easy way to make your home feel new and fresh. Interior design involves the use of colour, lighting, space, as well as understanding how to use texture to add style, elegance and your own touch.
Imagine stepping into a room made entirely of wood—chairs, floor, ornaments, everything. There'd be no depth, no texture, and no ambience to the room. Changing just a few things and adding some texture can change the entire atmosphere of a space. An inspiration or style board can be a great way to trial the style you're looking for, and the textures you want to add. But be careful not to fall down the Pinterest rabbit hole! Everything online may look incredible, but can be difficult to achieve without a little guidance.
Whatever your style, following these simple rules on how to mix textures in interior design will have your space feeling brand-new.
What is texture in interior design?
Texture is the surface quality of a material—a velvety blanket, a smooth coffee table, or a rough brick are all examples of texture. Using texture in interior design adds another element to your space—it's an extension of the visual, and can add a cosy, comfortable feel, or a crisp, professional look. Texture is an element of design in interior design, along with line, shape, colour, proportion and light.1 All of these elements affect the design, feel and style of a room, and are used together to create beautiful environments that are a joy to be in.
Texture tips
Use layers
When trying to understand how to mix textures in interior design, the first thing to grasp is layering. By breaking the room down into smaller, more manageable pieces, you not only create an easier process for yourself, but also open up the possibility of adding depth to the room.2 Start with something that doesn't change like the floor, and layer from there. Is your flooring light or dark? Does it use textured tiles, or smooth timber floorboards? From there, you can start to consider the texture of large pieces of furniture, and what goes well with the flooring, before moving onto smaller pieces and ornaments.
As an example, if you have a matte, wooden bookshelf, you can bounce off this by adding smaller ornaments with a glossier textural finish.
Be selective
Like the glossy ornaments mentioned above, small pieces can make a huge difference, especially if they are textured.3 Handmade vases with a grainy or bumpy finish, or  woven/knitted rugs are a great way to add texture without overtaking the entire space. Combining too many different textures can leave your room feeling chaotic and confused, instead of coherent and beautiful. Something as small as a hanging macramé wall decoration can make a huge difference, but if that texture is used a lot throughout the room and mixed with other complex textures, it can become overwhelming.
Accentuate the texture
To really make the textures you incorporate pop, and to create a more cohesive feel, it's good to have similar (or more uniform) background features. By tying these smaller details together with elements like similar colours, the bigger contrasting and textural pieces are emphasised. Adding a textured throw rug to a fabric couch in your space sounds like an easy way to add texture, right? Unless there are also tie-ins to the cushions or the couch itself, this rug may look out of place or awkward, regardless of the texture element it adds. You can use all other elements of design to add this cohesiveness, such as colours, shapes, or even the same background texture.
To learn how to mix textures in interior design, try creating a mood or style board. This will allow you to mix textures that you like, see what the textures look like when layered, and allow you to make better selections for the final design. Whatever your personal style, knowing how to mix textures will help you to design a beautiful, stylish room.
References
2020, Elements of Design Part 3: Texture and Pattern, Hatch Interior Designs Inc
Jenna Gaidusek, 2018, 3 Easy Steps to Mix Patterns and Textures Like A Pro, Jenna Gaidusek Designs
2020, Decorate Like A Pro: How To Use Texture in Interior Design, Amara Living