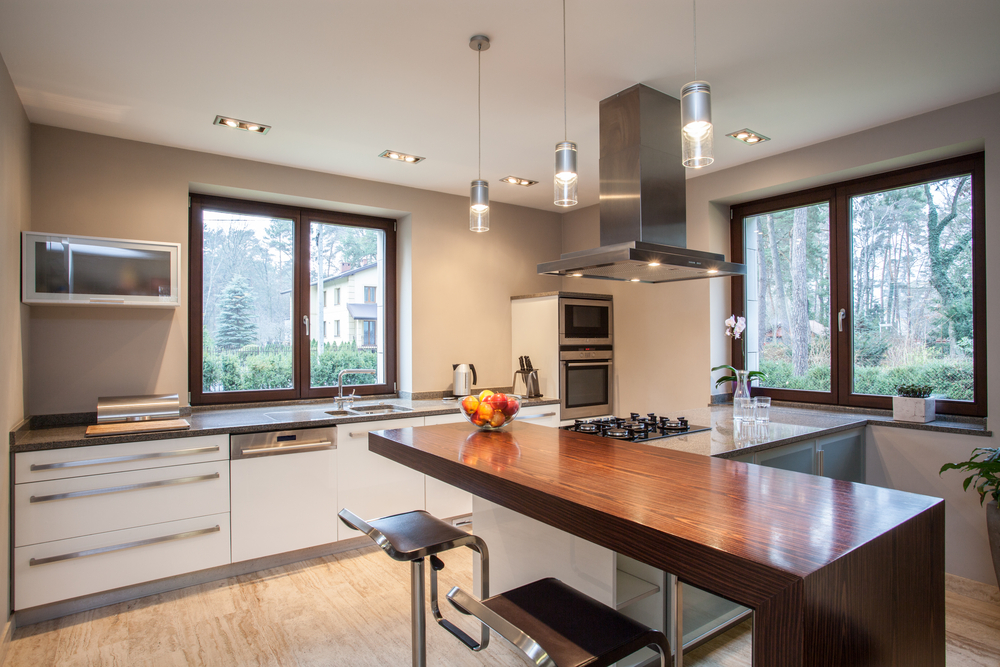 Whether you're renovating an old Queenslander… or planning a new build… your first priority should be a stylish, functional and smart kitchen design. The kitchen is heart of the home – a place where families meet to talk about their day and where guests gather. So much time is spent there that you will want to get the design right!
Here are a few tips to assist you when planning your new kitchen:
1. Efficient Floor Planning
Adina's award winning kitchen designs are based on workflow, motion and space.
After considering your available floor space, a layout can be designed that allows easy movement between the working triangle – stovetop, sink and fridge. It is important to discuss how you use your kitchen and also the position of the kitchen in relation to the rest of the house. The placement of storage areas, preparation areas and cleaning areas should be carefully considered in conjunction with the flow of traffic through the Kitchen and physical features of those who will be using it most (eg are they left or right handed, tall or short, etc)
2. Adequate Storage and Bench Space
You'll never complain about having a kitchen with too much storage or bench space. On the other hand, a fancy kitchen with no storage areas will just cause frustration. You shouldn't compromise practicality for looks. It's great to have a featured wine fridge, but if it means no room for pots and pans, then why bother? Get the balance right, and sometimes small compromises are necessary to achieve a functional space.
As professional kitchen designers in Bundaberg, an Adina consultant can discuss all of your current and potential kitchen storage needs. From where you plan to keep crockery and cutlery through to your preferred pantry style, you'll get a kitchen designed to meet the needs of your lifestyle. You can have a 'WOW' design (and a wine fridge if you like!) but we'll make sure there's somewhere for all those plastic lids too!
3. Classic Styling Goes the Distance
A tour of the Adina gallery shows our commitment to design that is contemporary yet classic. Quality, streamlined and neutral cabinetry will give you a kitchen to last. Accessories and other easily replaced items are relatively inexpensive and can be interchanged so your kitchen remains on-trend. Don't be tempted to go super-trendy with your kitchen design, you'll regret it in a few years when you have to redesign your kitchen space or fail to sell your home! We'll show you how classic kitchen design, paired with modern, chic accessories creates a timeless style that won't date in years to come.
4. Appliances and Fixtures Are Core Components
Invest in the best appliances and fixtures your budget allows. You'll want the big-ticket items such as the oven, fridge and dishwasher to give good service… therefore kitchen design and appliance selection should go hand in hand. If you are using existing appliances such as a refrigerator or microwave, ensure your cabinet maker has the dimensions so that the appliances will fit neatly in your new kitchen. Should you need to replace appliances after your kitchen is installed, it may mean expensive modifications are required.
5. Bells and Whistles, Things that Open and Close
When planning a new kitchen, it's best to speak with the experts. You'll get current advice on all the latest trends and hardware that will give you a practical and stylish kitchen. Functional design elements such as shallow spice drawers, recycling centres and slide out pantry shelves might be incorporated into your new kitchen more easily than you'd think. We'll make sure that your kitchen design suits your lifestyle, maximises space and is practical!
If a new kitchen is on your 'to-do' list, Adina Designed Interiors offers award winning kitchen design services in Bundaberg and the Wide Bay area. Contact an experienced consultant today on (07) 4132 7555 to see how these design elements can bring your dream kitchen to life.