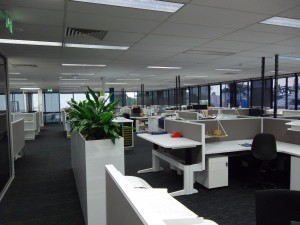 There's a huge to-do list when you're about to launch a new venture or remodel an existing business space. At least the headache of arranging your commercial fit out can be crossed off that list. The team at Bundaberg's Adina Interiors have years of commercial interior design experience and they can manage your fit out from concept to completion.
5 key factors to consider before your fit out
The many complex factors at play when planning a commercial fit out include:
1. Any obligations to your lease and landlord. These must underpin any commercial fit out. Your lease may include contractual restrictions or a predetermined timeline needing to be honoured.
2. Plans for potential business growth so that any current commercial fit out has capacity and flexibility when your business expands.
3. Design factors for maximising available space and efficiently arranging work zones or common staff areas to suit your business operations. Consideration should also be given to electrical outlets and ease of technology integration.
4. Styling that denotes your brand and business message. Keeping in mind that furnishings and accessories must be durable and not likely to date quickly.
5. Compliance with Workplace Health and Safety regulations, or any other legislation.
Need to talk to someone about your plans? Adina Interiors are experts at handling all aspects of commercial fit outs in Bundaberg and offer you a one-stop solution.
Avoid the pitfalls and undue stress of a self-managed commercial fit out
Although attempting to manage a commercial fit out on your own is brave, it's also potentially asking for hassles, unwanted pressure and chaos.
As well as attending to the regular matters of your business, self-managing a commercial installation involves co-ordinating the following:
• Generating and drafting the most efficient yet also compliant plans.
• Selection of materials for the fit-out.
• Selection and installation of business equipment.
• Preparation of the premises.
• Sourcing, hiring and managing the wide range tradespeople to work on the fit out in the necessary order within required time frames.
And the list of things you'd need to worry about goes on!
Avoiding the headaches of a commercial fit out for your Bundaberg business is easy. Adina Interiors can take care of the lot and deliver a workspace workspace you'll be happy to work in, and proud to show off to clients.
If you're planning a commercial fit out in Bundaberg, Adina Interiors is here to help. Call the experts today!