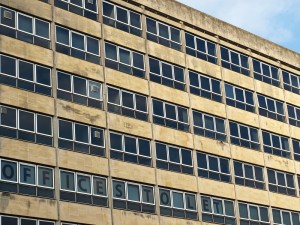 You've left the office behind for 2014. It was a good year, or maybe it was just a long one, dusted and over, ready to be forgotten in a fog of holiday bliss. In 2015, you'll return refreshed and ready to take on the world…until you step inside and the same white, blank walls stare back at you. Your uncomfortable office chair still makes that weird noise if you sit too quickly and the uninspirational setting of white on grey crawls under your skin, even though you're supposed to lead the team. Think about the dissatisfaction you're feeling regarding your office – if it's not even 70% energising to walk through those doors, coffee in-hand, every morning, we guarantee your employees feel just as miserable about their environment. Need a few reasons to hand to the head-boss, convincing him or her to pep up the space? Adina Interiors have you covered. 
Increase Productivity
Quality of work is a kicker for all employers and managers. The amount, the content, the deadlines – all of it comes back to how your employees feel about themselves, their jobs and their environment. While the basic foundation of most offices, medical centres and dental surgeries will never change, the virtual insistence that employees must work in a bland environment went out of fashion with paying them with paper checks. Surround your employees with colour, create spaces dedicated to recharging or dining during lunch breaks, even invest in a mini gym and shower to keep heart rates going – your employees dedicate their waking hours to maximising company return. Pay forward the favour and invest in their comfort and increase their productivity.
2. Don't Worry, Be Healthy
Have you ever had a desk that was too high for you? A chair that wouldn't move after a few weeks of sitting in the same position? Maybe you're sick of sitting at all? Ergonomics is a key factor in the energy levels of employees, and while most offices and work places provide seated stations, health experts suggest employers should lean the other way – stand up desks. Sitting for six hours a day, for years on end, takes a decade off your life. Creating stand-up designated work stations for employees who prefer to be on their feet for part of the day will improve their attention to detail, makeover their health and may reduce irritability.
 3. Clean Slate Syndrome
It's difficult for the human brain not to attach negative emotions and memories to an environment – since we spend most of our lives at work, not all of our experiences are going to be 100% happy. Considering this, think of an office re-design as a clean slate. You and your employees walk in, expecting and envisioning one thing and being presented with a new, sparkling office, designed to meet their needs. Stand up desks, chill out rooms, quiet zones and research areas can all improve the general outlook of your employees.