The kitchen is the heart of any home—celebrations, family events, and entertaining all start in the kitchen. An essential part of this is the humble kitchen bench. Kitchen benches are not only used for food preparation, but are also spaces for homework, arts and crafts, reading, sudoku, and makeshift bars. While some kitchens are blessed with natural lighting, others will need electric lights, and installing the right light above your kitchen bench can make a huge difference to how spacious and welcoming your kitchen feels. 
Light fixtures are a win-win—they add extra light to your kitchen, and are another feature that adds dimension to your space. Whether you are looking for statement pendant pieces, understated track lighting, or seamless recessed features, here are a few kitchen bench lighting ideas to add some style and brightness to your home! 
Kitchen pendant lights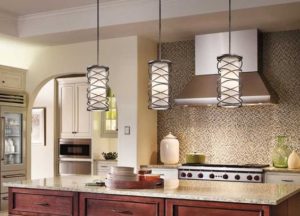 Image from Pinterest
Pendant lights (or hanging kitchen lights) can be statement pieces, similar to chandeliers, or a more simple fixture. Most pendant light styles are easily adjusted, so you are able to choose the height you prefer above your kitchen bench. There is a huge range of pendant lights to choose from, to suit your home decor—sleek and clean lines, exposed bulbs, industrial-look caged lights, different colours, narrow or wide fixtures, and the list goes on.1 It's important to think about the space that is being lit before diving headfirst into pendants. They are perfect for lighting a kitchen bench, but for cabinets underneath the bench, you may want to invest in some under-cabinet lighting, as the light can't travel over and under. It is also a good idea not to go overboard with pendant lights—as they are a bit more dramatic than other styles, having too many can feel cluttered and overdone. 
Track lighting
Rising in popularity in recent years, track lighting is both functional and stylish. All bulbs can be adjusted on track lighting, and can face different directions. They can also all be pointed at one specific task area, like your kitchen bench. This gives you the fullest amount of light and eliminates any irritating shadows. You can also direct them along the track facing your bench space, giving even and consistent light all the way along.2 Track lighting fixtures come in a variety of sizes, colours, and shapes, as do the tracks themselves—there are linear tracks, U-, S-, or T-shaped, circular, and square, as well as customised shapes.3 The bulbs themselves also vary, depending on what you want for your kitchen lights. LED kitchen lighting is a popular choice with track lighting, as they require less replacement, and don't have buzzing or flickering as they grow older. You can get LED lights in cool or warm tones, to suit your kitchen style.
Recessed lights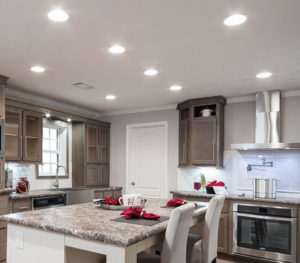 Image from Kraniums
Recessed lights, sometimes known as can lights, can fit seamlessly into any kitchen, large or small. Pointing straight down, they are able to emit more than enough light to illuminate your kitchen bench. You are also able to install a lot more of these, as they blend in well to any ceiling, taking up very little space.4 Recessed lighting has been around for a while, but will never go out of style, as there are too many advantages to them. They are easily installed, deliver efficient and effective light, and the distribution of light is even.5 If you update your kitchen, you can also easily interchange recessed fixtures with new colours or styles to match – no professional help needed! 
Flush mount fixtures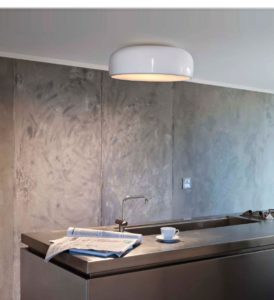 Image from Y Lighting
Flush mount fixtures hug the ceiling, and are designed to beam light throughout the whole room. Semi-flush mounts are also an option, and hang slightly away from the ceiling. As flush mounts are so close to the ceiling, there is less chance of shadows, and light is distributed more evenly. If you want simple and sleek, two or three flush mount fixtures above your kitchen bench is a great way to go (as long as the ceiling isn't a cathedral-style). There is a vast range of styles and bulbs to choose from, so flush mount fixtures can also complement other lighting you may already have in your kitchen. 
As the kitchen is always a hub of activity, great lighting is a must. The above kitchen bench lighting ideas are a great way to add dimension, ambience, and illumination to any kitchen, regardless of size or style.
References