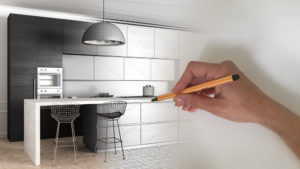 If you're thinking of renovating your kitchen, you've got two important considerations to balance: practicality, and design. On the one hand, you need to ensure that your kitchen is a functional and easily used space. But on the other hand, kitchens are a design focal point, and a space for you to exercise some creative energy. 
To achieve the balance between practicality and design, you'll need to first appreciate the importance of kitchen design and layout, and then understand the critical things to consider during the design process.
The importance of kitchen design and layout is never more obvious than when you're socialising
The kitchen is the heart of every home, which is easy to see when you're entertaining friends. People are naturally drawn to the kitchen, no matter how nice your living room is, and when you invite people over there's every chance they'll end up in the kitchen. In our view, that's something your kitchen design and layout should reflect.
So, when you're planning a kitchen renovation, think about the ways you can make it more sociable. Open plan is an old favourite, but don't stop there; we recommend getting creative with lighting and colour tones to give your kitchen a warmer and more homely feel. If you want to dazzle guests with sleek contemporary designs, save it for the living room!
Kitchen design and layout is important for practical reasons too
Let's not overlook the kitchen's primary purpose though: cooking. It's one thing to host guests in your kitchen, but to feed them is another thing entirely. The importance of kitchen design and layout is obvious to most home cooks, especially when there are things that could use a bit of improvement.
But at the same time, it's important to recognise that design and layout have to work with space, as well – you can't make room where there is none! That's why sympathetic design is so important in all kitchens. When you design a kitchen, you need to work with your strengths; if there's no space, then focus on storage, and if there's plenty of space, focus on utilising it.
Kitchen layout and design can contribute to safety as well
If you have children, the importance of kitchen design and layout has an added dimension of safety. Your kitchen design and layout should focus on ensuring that everything is childproof to the greatest extent possible. But how can you do that without sacrificing aesthetics?
Often, it's the subtleties that can have the most profound effects from a safety standpoint, and kitchens are prime examples of that. Moving the stovetop a few inches back from the edge of the bench can minimise the risk of dangerous stovetop spills, and incorporating storage spaces up high can help keep things like alcohol or cleaning products out of a child's reach. When it comes to kitchen designs and layouts, it's important not to overthink!
Having trouble keeping a clean kitchen? Here's the importance of kitchen design and layout for cleanliness
Whether you're cooking for five every night, or riding solo, keeping a clean kitchen can feel like an ongoing battle. Believe it or not, a lot of that struggle comes down to kitchen design and layout. If you've got more corners than necessary, then keeping clean bench tops is more challenging; if your food preparation area is too far from the stove, then you've a greater chance of spilling veggies in transit.
Often, the best way to keep a clean kitchen is by clever design. For example, if you maximise your bench space immediately beside the stove, then you can create a "production line" set up, rather than carrying chopped food from an island bench to a stove some metres away.