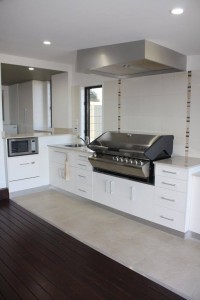 Designer homes and interior solutions are quickly becoming more affordable and a well-designed interior provides you with many benefits, including comfort, ambience, practicality and even the value of your home. The importance of targeted interior design is perhaps most evident in the kitchen of your home, where the principles of interior design can be utilised to craft a unique décor that combines style and practicality.
Kitchens do, however, serve a very specific purpose – namely the preparation of food – and this means that a little extra consideration is necessary to make truly designer kitchens, although this does not mean that a designer kitchen is beyond your reach. With some careful planning, a little expert help and the basic principles of interior design, you can create designer kitchens that are sure to impress your friends, whilst fulfilling all your practical needs as well.
Consider the importance of your designer kitchen's layout
Layout and floor plan is perhaps the most important feature of all good designer kitchens and getting them right is paramount. Often, homeowners make the mistake of following the latest design trends and forgetting to address the fundamentals first. The key to any good interior – especially in a kitchen – is space maximisation and this begins with your layout. When you are looking at the best way to arrange your floor plan, consider your practical needs. Things like movement, bench top positioning, and space should be customised to suit your own requirements, such as your height and reach. Once you have given this adequate thought, you can turn your mind to the remaining features of your designer kitchen such as styling and appliances.
Some things to think about when crafting your designer kitchen
When you are creating a designer kitchen, it is important not to rush the process. It's easy to get caught up in the latest fads, but with some consideration for what is important and some advice from the experts, you can easily create designer kitchens that are both stylish and functional.
Storage and workspace
One of the areas in which it is most common for designer kitchens to fall short is storage. Storage is paramount in every kitchen and often, homeowners do not realise exactly how much storage they need until it is too late. The same applies to workspace; things such as bench tops and sinks ought to be as large as reasonably possible, so as to meet your practical needs when cooking and preparing food. As a general rule, each feature of your kitchen ought to serve a purpose and this is particularly pertinent when it comes to bench tops and workspace.
Style and ambience
Once you have ascertained exactly how much workspace your kitchen can facilitate, you can turn your mind to your desired style and ambience. Often, it is best to work your preferred style around your practical requirements – as opposed to other way round – however speaking some experts in kitchen design might expand your horizons in this regard. Things like bench top materials and colour schemes can be powerful design tools and will help you create a kitchen that is perfectly styled to your preferences.
Appliances
Finally, you should have a look around at some different options with regard to appliances. Just as you can customise your bench tops and shelves, you can also select appliances that are in keeping with the desired style of your kitchen. Things like stainless steel fridges and dishwashers are popular for this reason, and if you shop around you are sure to find some appliances that go well with your designer kitchen.
At Adina Interiors, we know what it takes to set up stunning designer kitchens for your home. Get in touch with us today on (07) 4132 7755.