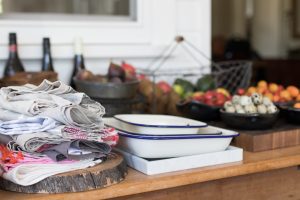 The traditional desire for stone and marble benchtops seems to be in decline. Of course, that's not to say that there's anything wrong with them. Rather, it is a result of a very attractive alternative: timber kitchen benchtops. Timber hasn't always been associated with kitchen benchtops – at least, not traditionally. But lately, they've been coming into favour with homeowners and designers in a big way. If you have ever seen timber benchtops in kitchens, you'll know that there are some compelling reasons for this. Timber benchtops are stunning! But they're also very unique; each type of timber benchtop creates a different kitchen look. Here are some of our favourites.

Jarrah is a hardy West Australian native, and it is a perfect type of timber for kitchen benchtops
Jarrah, like timber benchtops themselves, hasn't always been among the top tier of desirable hardwoods. In fact, its origins date back many years to the agricultural scene of Western Australia. There, it found great use creating fence posts and huts – many of which still stand today. That is no more than a ringing endorsement of Jarrah's durability. And then there's its appearance. Deep red, with gorgeous grain, Jarrah will be an absolute statement piece if it finds its way onto your kitchen benchtop.
Victorian Ash is a unique and characterful timber, which makes it a great type for kitchen benchtops
Victorian Ash is a well known hardwood that has long occupied a space in some Australia's finest floors. It ages exceptionally well, and continues to adopt new characteristics throughout its life. That life, by the way, can be many decades provided it is looked after. That is the beauty of timber benchtops; all they require is some care, and they will stick around for a long time. Victorian Ash is sourced from very slow growing trees, though. That means sourcing it can be a challenge. If you're set on Victorian Ash as the type of timber for your kitchen's benchtop, then we have some tips. Firstly, be prepared for the price; prices do vary, but they can be high for this premium timber. Secondly, team up with a reliable supplier – it will save you lots of bother.
Ironbark is hardened by the stunning conditions of its growth; it will withstand kitchen activities easily
On the topic of hardwoods, let's dedicate some time to an Australian classic: Ironbark. Ironbark is another native Australian hardwood, and, as its name suggests, it's on the harder end of the spectrum. Ironbark has an almost unrivalled durability, owing to its incredible strength and toughness. That is largely thanks to the harsh conditions in which it grows. As another slow growing tree, though, sourcing Ironbark for kitchen benchtops requires a similar process to Victorian Ash.
Recycled timber is a great type for kitchen benchtops – here's why
If hardwoods aren't really your speed, there are some great modern alternatives. Of those, one of our favourite timber types for kitchen benchtops is recycled timber. Generally, recycled timber has already lived a life, which earns it a distinct distressed look. That look complements everything from beach houses, to urban apartments. If you're looking for the designer edge, recycled timber is a great type of timber for kitchen benchtops. It's also environmentally friendly!
Finally, bamboo is emerging as a useful type of timber for kitchen benchtops – and it has some added bonuses!
Like recycled timber, bamboo is a fast growing and sustainable type of timber, which is well suited to kitchen benchtops. It also has a fantastically smooth, even, and bright appearance. Its grain is narrow, its colour light, and its finish stunning. Bamboo timber benchtops go very well in the types of kitchen found in more modern homes. To get the most out of it, contact some timber design experts!
For more information, get in touch with Adina Interiors today!