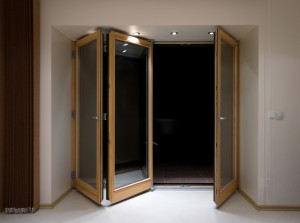 Timber in the home adds warmth, character and a luxurious natural feel. Many people may choose to feature timber in their flooring, roof or wall panelling and on surfaces in the kitchens. However for homeowner's who wish to make a more subtle statement by featuring timber in the home, without using large solid areas of timber, timber framed doors and windows can be a great way to feature timber and add interest to your window and doors.
Our skilled timber joinery team at Adina Designed Interiors can design, manufacture and install custom-made timber framed windows and doors for all specifications across Bundaberg and central Queensland – and this included the very popular option of bi folding timber framed windows and doors.  If you haven't considered timber framed windows or bi-folding windows and doors, read on to discover some of the design and practical benefits that make them an option worth considering.  
What are bi folding doors and windows?
The term bi-folding largely refers to windows and doors that fold and stack against each other when fully opened similar to a concertina. They can be configured to the size of the opening and can open inwards or outwards with locking systems that let you open just some or all of the windows or doors at any given time. They are normally best installed on a track system for the best support.
Where can they be used in the home?
Timber bi-folding doors and windows are used throughout the home, but are often used in areas of the home where glass sliding doors are used, particularly in wider openings.  When used in place of sliding doors they more than double the width of the opening, allowing more air flow and an indoor/outdoor feel. They are most often embraced in areas where there is a desire to let a maximum amount of light and air in, including areas leading to a patio, deck or connecting to an outdoor entertaining space.
Solid timber folding doors are also embraced in a bedroom in built wardrobe as they allow you to access both sides of the closet when completely folded back and allow better access.  They can be bi-parting opening in the middle or open from one end, depending on your needs.
Make Your Window and Doors a Feature
So many homes have windows and doors that serve only to from a functional perspective, but ugly powder coated aluminium frames become scratched, worn and can rust. Timber framed windows and doors can add character that is missing from any room, and with bi folding option you can open your home up to the great outdoors. This is great for entertaining but also allows a cooler home with greater airflow during the hot summer months.
They have become a massive style trend in the home design and renovation industry, being embraced by landscape designers, architects and builders. Out expert joinery team can create stunning timber doors and windows built to your needs with your choice of beautiful and exotic species of timber.
For more information about featuring the beauty of timber doors and windows in your home, don't hesitate to get in touch with the team at Adina Designed Interiors today on (07) 4132 7755