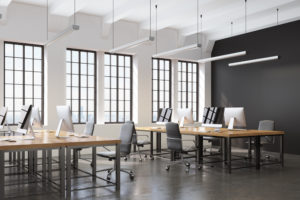 It's been an unusual couple of months, and there's been no shortage of challenges. But with a change in circumstances, comes a few rare opportunities. And one of the best opportunities that we can offer at the moment is office space renovation!
The benefits of renovating your office space now are pretty clear, but let's take a look at the specifics. We are confident that you'll be able to make the most of your setbacks, and exploit the rare opportunities presented by our new and unusual circumstances!
The most obvious reason is convenience: here's why now is perfect for renovating your office space
Of course, convenience is the standout reason to renovate your office space while everyone is working from home. If your business is now operating entirely from home, you've got a whole lot of office space standing idle. That might not sound ideal, but it does mean one thing: renovations won't be bothering anyone! Imagine that: your entire office is renovated, and your employees are not affected at all.
There's no dust to deal with, no noise, and no temporary seating arrangements. You simply pack up your desk one day, and return to a brand new office. The convenience from a business perspective is unrivalled and unprecedented. You can take out the stresses of personnel management, and the inconvenience of ongoing works, and enjoy the benefits.
With no one around, you can renovate your office space more easily – that can mean lower costs
Of course, it's not just you and your staff who will enjoy the convenience of office space renovation at the moment. Your office space renovators will also be able to reap the rewards of an empty workspace. They won't need to work around your business and your operations as much. As a result, the works will be quicker, easier, and possibly even cheaper. Better still, the site will be less crowded. And in the age of social distancing, a less crowded business space is always going to be ideal.
Renovating your office space normally means more spending and less earning, but not if everyone's working from home!
Renovating an office space is especially challenging for business owners under normal circumstances. Firstly, there is there the outlay associated with works. Designers, engineers, and tradespeople will all need to be involved, and there's also the cost of materials. But, in addition to that, there's also the cost of lost productivity.
If you're doing significant office space renovations under ordinary circumstances, your business may even need to close briefly. There will be less productivity among staff, while works continue, as well. But not now! Now, everyone is adjusting to their new normal of working from home. Productivity is slowly returning, and your office space is free to be renovated! That means the costs of lost productivity won't add themselves to your renovation.
The last few months has been challenging – renovating your office space is a good way to comeback
There's no doubt that all the current uncertainty has affected morale. Consumers are nervous, and business owners are doing their best to keep things moving along. The best thing under these circumstances is stability. And what better way to demonstrate your business's stability than with an office space renovation! Your staff and clients will return to a fresh and exciting space, which will no doubt work wonders for morale in general.
Now is the time to make the best of a tricky situation and renovating your office space is a great way to do so
With a steady approach and some clever thinking, you can turn a tricky situation into a business opportunity like no other. We recommend making the most of this period to get your dream office renovations put into action! Contact the interior specialists for more advice on getting your project up and running.