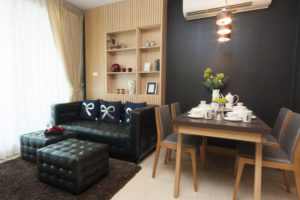 There are small rooms in every home. And as far as we're concerned, that's not a bad thing! In fact, there are many circumstances in which adding small rooms to a home is the best way to optimise its space efficiency. However, that doesn't mean small rooms aren't sometimes a little trickier to work with.
We know from experience that small rooms are a little less forgiving when it comes to storage. As a result, they can easily begin to feel like they're cluttered or even shrinking! Luckily, there are some simple solutions. So let's take a look at some of the most innovative ways to add space to small rooms in your home.
Storage and space go hand in hand, but how can you make it work in small rooms?
Before we go any further, we need to address the elephant in the room: storage. Just like an elephant in the room, suboptimal storage is going to take up all the space. If you've got small rooms in your home, storage needs to be your number one priority. We'll be the first to admit, though, that it's easier said than done. Truly perfect storage solutions involve more than just a few boxes or baskets.
If you want to get the most out of your small rooms, you'll need to think outside the square. Every inch of useable space – from the ground up – needs to be accounted for. We suggest teaming up with an interiors expert, or taking a trip to a few homeware stores for inspiration. Take the cupboards and shelves you've already got, and maximise them! Invest in solutions that hang, stack, slide, and store to ensure that even the smallest spaces in the smallest rooms are doing their bit.
Décor plays a big part in adding space to small rooms – here's how you can use it to your advantage
Now that you've got everything off the floor, it's time to take a look at the spaces that remain. What colours dominate your small rooms? What is the lighting like? It's important to pay careful attention to décor in small rooms. One of the greatest small room challenges is to create a feeling of space, even if space itself is at a premium.
And to create that kind of impression, you should be focusing on clean, bright colours. Remove anything that's dark, such as black carpets, dark paintings, curtains, or other dark focal points. Replace them with whites, or other bright clean colours. Then focus on lighting. Try and make it natural, where possible. If that's not doable, aim for warmer, natural tones of light.
Sometimes strategic renovation can add space to small rooms without taking space from others!
Of course, sometimes the best way to add space to small rooms is to literally add space. That's right, we're talking about renovations! But don't rush into it. Even renovating a small room requires a little extra care and attention. After all, you can't simply take space from an adjoining room; you need to optimise the space you've got already. We often find that renovating small rooms is a relatively low-impact job. The reason for that is simple: it's better to consolidate the space you have, than it is to create new space altogether.
Matching furniture with space ensures that every part of a small room is functional
Like décor, furniture can play a significant part in the aesthetic of a room. When it comes to small rooms, creating the impression of space is easiest with more modern furniture. Although, depending on your inclination, some mid century items of furniture can be powerful allies. For example, if you would like to create an office space, a modestly sized mid century desk and chair combination will focus the eye. That will, in turn, lend a sense of space to the surrounding floor plan of the room.
Are you still struggling to get the most out of a small room? Ask the experts for help
If you're still having a tough time getting your small rooms to their full potential, ask the experts! With an experienced renovator and decorator, you can maximise your small rooms and enjoy a seamless transition between each space in your home.