Kitchens need to be designed in a usable way, and L shaped kitchens do that better than any other. The success of an L shaped kitchen design lies in its spaciousness and accessibility, but there are some benefits from a design perspective too.
L shaped kitchens allow architects and designers to make use of as much boundary space as possible, which leaves you with the freedom to occupy floorspace as you please. Unlike corridor-kitchens, or conventional bar kitchen designs, L shaped kitchens give you the space to move and the freedom to choose between tables, island benches, or even bars. Here are our five favourite L shaped kitchen designs for the year.
L shaped kitchen with nook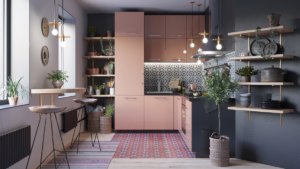 This L shaped kitchen has allowed the owners to maximise natural light in their kitchen, without overfilling the small space. Here, they've opted for the L shape because there's simply no room for a table or island bench, and the L shape allows them to get clever with wall storage. The result is a tiny kitchen that probably still has more usable space than most larger ones. And to keep things simple, they've fitted a wall-mounted coffee bar for two. In a small apartment, what more could you need?
Space efficient
kitchen layout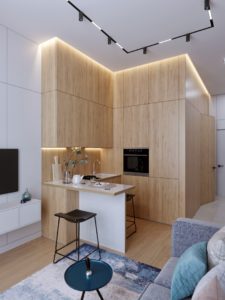 Speaking of small apartments, here's a leader in space efficiency. This one is clever because it's not an L shaped kitchen in the conventional sense. Most L shaped kitchens consist of two benches in a corner, with one bench running parallel to each wall. This one bucks the trend because of its bar bench, which extends perpendicular from the wall instead of parallel. By doing that, it creates the L shape that we love to see. But it also ties into the overall interior designs flawlessly by leaving the rear wall free for built-in storage, and creating a dining platform that negates the need for a big bulky table.
Colourful kitchen designs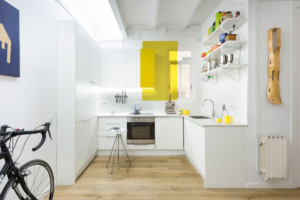 As before, this L shaped kitchen is designed around the space constraints of apartment living. Its L shape allows it to maximise usable space without overcrowding it, but that's not the cleverest part. This kitchen's edge is its colour scheme. Smooth white edges are a double edged sword in the world of interior design, because despite creating feelings of space, they can also make a room feel soulless. If there's too much white, it's hard to see the nuance of the kitchen design. That means you have to get creative if white is your go to, and that's exactly what we're seeing here. The designer has confronted the almost overpowering whiteness head on with the boldest focal point you could imagine: a bright yellow square. By breaking up the white landscape, the yellow square illuminates the subtleties of the L shaped kitchen.
L shaped kitchen with island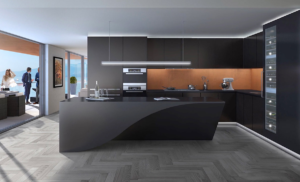 Now let's take a look at the crown jewel of L shaped kitchens: the island bench. Island benches are really reserved for kitchens with a lot of space – like the one in this photo. The important thing to remember is not to force it—if you don't have the space, don't try and make the space! Instead, take a look at some of the examples above – it's better to work with the space you've got. Of course, if you do have space for an island bench don't be afraid to be bold. In this kitchen, you can see the island bench has been crafted into quite an imposing feature—its curves replicate a ship's hull, and create an impression of size and stature. Not all kitchens can pull off the island bench without feeling cluttered, but when they do it's a sight to behold.