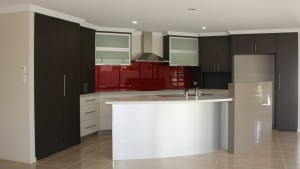 Renovation plans for 2016? Are you considering a revamp of your kitchen? Let us show what's hot in design trends for kitchen renovations 2016!
What to expect in 2016 kitchen designs
Your kitchen is the most frequently used room of your house, so you want it to be a place in which you enjoy spending time. Kitchen basics really haven't changed much in decades, but style trends change as often as your menu! New colours, lines, patterns and essential appliances appear on the market every day to meet our changing lifestyle needs. Do you want to know what's hot in kitchen renovations for 2016? Let's take a look.
Neutrals, white and grey
In 2016, white once again works its way into kitchen designs, providing a blank canvas for walls and cabinetry. Although white cabinets and surfaces must be cleaned more frequently, the simplicity of white is timeless and allows you greater flexibility in other areas of your kitchen décor.
Neutrals and greys are also important in the latest kitchen renovation palettes for 2016. These basic shades can be accessorised with pops of colour, like bright feature tiles, coloured splashbacks or retro appliances. Or, bring your neutral palette down to earth with textured highlights, rustic furniture and cottage charm.
Modern high-tech functionality
The technological world around you is changing at a rapid rate, so why not embrace our love of gadgetry and incorporate it into your 2016 kitchen renovations? Browse your options for cabinetry with built-in charge stations for your tablets and mobile devices or hands-free casings so you can chat on the phone while you cook.
Have trouble storing all those cookbooks or recipes on scraps of paper? Get smart and design your kitchen around access to the Internet. You'll have recipes at your finger tips, while you interact hands-free!
Metallic in your kitchen
Metallic tones are a popular favourite for kitchen designs, and it looks like they're here to stay. From stainless steel appliances to brightly coloured anodised storage canisters, many people love to make a statement with metal.
What's new, however, is the emphasis on bolder metals such as brass, copper and gold for 2016. Adding a touch of glamour and restaurant chic, these metals add warmth to the room, while remaining low maintenance and sleek in design. Think low hung copper lighting, brass tapware or exposed pots and pans on display shelving.
Vintage nostalgia
Vintage trends have worked their way into every room in the house over the past few years, and now the kitchen is set to embrace all things retro. On trend additions might include genuine vintage or replica bar stools, retro kitchenalia, or framed vintage posters on your walls. Everyone enjoys a bit of nostalgia, so why not embrace the little things of bygone times in the room with the most foot traffic in your house?
Natural materials
There has been a rise in the longing for natural materials in modern day interiors, and it is clear why this is happening. When you surround yourself with sleek designs and flash gadgetry every day, there is an understandable yearning to get back to nature. The way to do this, other than actually go outside, is to bring the outside in. Think earthy materials like bamboo, authentic wood (no faux please), and river rock can work well in your kitchen.
Your kitchen renovation for 2016 can also incorporate neutral textures, such as linen, jute and rattan in hanging bags, table settings or curtains. Set against the popular neutral wall tones, or a striking feature wall in bold chocolate brown or turquoise, you'll carry your visitors to the woods, the seaside or the country cottage just by choosing the right style elements.
Why not consider introducing some greenery into your kitchen design, too? Vertical planting is so big right now! Consider adding a wall of growing herbs as a striking, but practical, feature. Indoor plants are also an easy way to bring nature inside and break up the stark nature of a newly refurbished space.
Adina Interiors
When it is time to organise your kitchen renovations for 2016, call in the experts to help you. At Adina Interiors, we design, manufacture and install kitchens, sourcing the widest range of materials and fittings to suit your style. We have been in the industry for almost 50 years, servicing Bundaberg and surrounding areas, and pride ourselves on bringing the best quality interior fittings into your home. Contact one of our friendly team members on 07 4132 7755, or complete the online contact form with your questions about kitchen renovations.
Whether you love city chic or rustic rural design trends, your kitchen is an essential part of the overall atmosphere in your home. Get the hottest trends for your kitchen renovations in 2016!
Looking for the hottest trends in kitchen renovations for 2016? Contact Adina Interiors today.