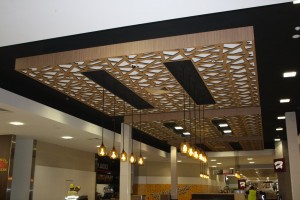 During the recent one in two hundred year flood that Bundaberg experienced in January 2013, one of the town's major retail outlets – Hinkler Central – fell victim to the event with flood water encompassing the entire centre. Tenants of the centre were forced to remove all stock from their stores while the whole centre was stripped out, dried, sanitised and re-fit.
Murchie Constructions' cabinet-making division (now known as Adina Designed Interiors) were proud to take part in the refurbishment of Hinkler Central – predominantly the Amenities, Parents Room, Food Court and Centre Management- manufacuring and installing much of cabinetry and coordinating trades involved.
With Hinkler Central now operational again, the facelift has given the centre a fresh, clean and modern new look!